Doug Cress, WAZA
Doug Cress is the Chief Executive Officer of the World Association of Zoos and Aquariums (WAZA), which provides leadership and support to nearly 400 regional associations, national federations, private companies, zoos, and aquariums in more than 50 countries.
Cress previously spent six years (2011-16) as a Programme Coordinator for the United Nations Environment Programme (UNEP) in Nairobi, Kenya. His portfolio included the Great Apes Survival Partnership (GRASP), a coalition of 105 national governments, conservation organizations, research institutions, zoos, and UN agencies that aim to protect apes and their habitat in Africa and Asia. Before joining UNEP, Cress served for a decade as the Executive Director of the Pan African Sanctuary Alliance (PASA), the network of primate rehabilitation centres across Africa and two decades as an award-winning journalist.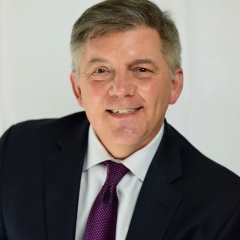 In 2017, the World Association of Zoos and Aquariums (WAZA) signed a five-year Memorandum of Understanding (MoU) with the RSPO – what does this mean for biodiversity conservation??
The MoU signed between WAZA and RSPO is focused on the potential for sustainably produced palm oil to support biodiversity conservation and the opportunity for leading zoos and aquariums to help drive global consumer demand.

WAZA is in a unique position to not only drive behavior change amongst a large consumer audience, but to also ensure this change is implemented internally within our 400 members around the world, ranging from zoos in South East Asia to North America.

This inside / outside combination means we can be more than just agents for change; we can actually be models for change. Our members are hungry to be doing good and setting examples that are exemplary.

Currently half of WAZA's members are based in Europe. Our emphasis and impact at this moment is therefore very European focused. Our target for 2023, is for half of our members convert to using only certified sustainable palm oil products, and that goes for the food and products we sell to the public in gift shops and cafeterias to the food and supplements we give to the animals in our care..
What work is being undertaken in zoos around the world to educate consumers about palm oil and sustainability?
The educational journey we undertake with consumers varies greatly across regions. In countries where consumers drive the market, such as North America and Europe, educational efforts are focused on incentivising action.

One great example comes from Melbourne Zoo in Australia, where visitors can walk through an interactive grocery store and scan everyday products to find out if good or bad palm oil has been used. They then have the option at the end of the process to send letters to the heads of corporations encouraging them to implement a more sustainable palm oil sourcing policy.
In regions where people are closer to palm oil in its natural form, such as South East Asia and Latin America, messaging is focused on habitat and deforestation issues.

In the near future, I think we will begin to see the emergence of a more effective educational process, that takes into consideration the socio and economic impacts of palm oil production.
What effect would a boycott or ban on palm oil have on sustainability achievements to date within the sector?
In effect, boycotts prevent dialogue from being able to take place. Boycotts are also a Western approach to a global problem. I don't think many people understand the damage a boycott would have on the ground – it would put a whole industry out of work.

The economic upside of palm oil – which not many people understand yet, is that it is a very efficient vegetable oil. There's currently no viable alternative that could produce as much oil in terms of land space. Therefore, a switch to alternative oil could lead to even greater problems environmental problems.
What can consumers do to help prevent agricultural deforestation?
While the average consumer may not be aware of what agricultural deforestation means, we are a smart species – therefore if people are offered the right choice, I would like to think they would take it.

At the moment, we're not doing a good enough job of making that choice clear. There needs to be more certified sustainable palm oil choices on the market. If sustainable palm oil can be ramped up to where it is the better choice, and everyone has that choice, then I think it will win out.
What would you like to see as one of the outcomes of this year's EURT?
One of the most frequently asked questions we get from WAZA members is, "who should we buy from?". It's not as easy to certified sustainable palm oil producers as it should be. While there are leaders in the field, they are not demonstrating a strong enough dialogue on palm oil sustainability.

With this in mind, I'd like to see clear pathways for progress from companies as a result of discussions at the European Roundtable. It would be disappointing if conversations only centered around how to deal with boycotts or negative campaigns. Instead of focusing on defensive measures, we should be talking about how to present such a progressive and unified front that boycotts aren't necessary.