Elisabeth Hipeau – BNP Paribas
EN
Elisabeth Hipeau is a chemical engineer, she spent 15 years in the chemical industry before joining BNP Paribas in 2006 as an industry expert for the Group RISK. She joined the CSR Group in 2016 to take on the responsibility of Environmental, social and governance (ESG) risks management.
FR
Elisabeth Hipeau est ingénieur chimiste. Elle a travaillé dans l'industrie chimique pendant 15 ans avant de rejoindre BNP Paribas en 2006 en tant qu'expert du groupe RISQUE. En 2016, elle rejoint le groupe RSE pour prendre en charge la gestion des risques environnementaux, sociaux et de gouvernance (ESG).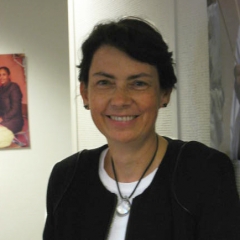 EN
What is the role of financial institutions such as BNP Paribas in achieving 100% certified sustainable palm oil in Europe by 2020?


FR
Quel est le rôle d'institutions financières telles que BNP Paribas dans la réalisation de 100% d'huile de palme certifiée durable en Europe d'ici 2020 ?
EN
Financial institutions have an important role in the palm oil industry as they support a variety of players from manufacturers and processors through to traders.

BNP Paribas first turned its attention to the palm oil sector in 2010, recognising the importance of forest conservation for biodiversity and the role that forests play in mitigating climate change by acting as carbon sinks. Our objective was to bring our clients to the best industry standards such as RSPO certification, and to ensure that the bank's business activities did not lead to deforestation or forest degradation. The criteria upon which we make investment decisions – as well constructive dialogue and our experience of ESG risk management – help us convince our clients that implementing these standards will make their organisation more sustainable.

Going one step further, in 2015 BNP Paribas endorsed the Zero Net Deforestation objective set up by the Soft Commodities Compact. This was a joint initiative overseen by the Consumer Goods Forum and the Banking Environment Initiative, with an aim to eliminate deforestation from the supply chain by 2020. As standards matured, the bank revised its position to meet this commitment and included the High Carbon Stock Approach within the policy.

FR
Les institutions financières jouent un rôle important dans l'industrie de l'huile de palme, car elles soutiennent une variété d'acteurs, des fabricants et transformateurs jusqu'aux négociants.

La BNP Paribas s'est d'abord tournée vers le secteur de l'huile de palme en 2010, reconnaissant l'importance de la conservation des forêts pour la biodiversité et le rôle des forêts face au changement climatique en stockant le CO2. Notre objectif était d'amener nos clients aux meilleurs standards de l'industrie, tels que la certification RSPO, et de s'assurer que les activités commerciales de la banque n'entrainaient ni déforestation ni dégradation des forêts. Les critères sur lesquels nous prenons des décisions d'investissement – ainsi que le dialogue constructif et notre expérience en gestion des risques ESG – nous aident à convaincre nos clients que la mise en œuvre de ces normes rendra leur organisation plus durable.

Pour aller encore plus loin, BNP Paribas a adopté en 2015 l'objectif Zéro Déforestation Nette mis en place par Soft Commodities Compact. Il s'agit d'une initiative commune supervisée par le Consumer Goods Forum et la Banking Environment Initiative, visant à éliminer la déforestation des chaînes d'approvisionnement d'ici 2020. Alors que les normes ont évolué, la banque a révisé sa position pour respecter cet engagement et a intégré la High Carbon Stock Approach dans sa politique.
EN
Which organisations within the sustainable palm oil sector are BNP Paribas currently collaborating with? What are the desired outcomes from the partnerships?


FR
Avec quelles organisations du secteur de l'huile de palme durable BNP Paribas collabore-t-elle actuellement ? Quels résultats attendez-vous de ces partenariats?
EN
On one hand, BNP Paribas supports all stakeholders across the palm oil value chain that are in line with its sector policy. Implementing the highest industry standards and helping drive a sustainable palm oil industry is a pledge for sustainability. However, meeting this objective requires cooperation from all stakeholders.

The bank therefore requires its clients have a plan to become a member of the RSPO. This includes adhering to RSPO best practice, by implementing High Carbon Stock and High Conservation Value approaches and that Free, Prior and Informed Consent (FPIC) is obtained prior to developing new oil palm plantations.

To raise new Environmental, Social and Governance (ESG) stakes within the sector and to demonstrate effective implementation of our policy by our clients, we rely on input and collaboration with NGOs and external experts among other sources. We also exchange views with our peers to motivate clients to apply best practices.

On the other hand, the bank offers innovative financing solutions. One example is Positive Incentive Loans, which include ESG performance in the pricing; offering a discount when companies meet sustainability goals, or implementing a premium when underperforming. Another is Supply Chain Financing, which reflects the cooperation between stakeholders towards sustainability.

FR
D'une part, BNP Paribas accompagne toutes les parties prenantes de la chaîne de l'huile de palme qui sont en accord avec sa politique sectorielle. La mise en œuvre des normes les plus élevées de l'industrie et la promotion d'une industrie de l'huile de palme durable sont un gage de durabilité. Cependant, la coopération de toutes les parties prenantes est nécessaire pour atteindre cet objectif.

La banque exige donc de ses clients d'avoir l'intention de devenir membre de la RSPO. Cela implique de respecter les bonnes pratiques de la RSPO, en mettant en œuvre les approches High Carbon Stock (HCS), High Carbon Value (HCV) et en obtenant le consentement préalable, libre et éclairé ) avant le développement de nouvelles plantations.
Afin d'adresser de nouveaux enjeux environnementaux, sociaux et de gouvernance (ESG) dans le secteur et de démontrer la mise en œuvre efficace de notre politique par nos clients, nous comptons sur les contributions et la collaboration avec des ONG et des experts, entre autres. Nous échangeons également nos points de vue avec nos pairs afin de motiver les clients à appliquer les meilleures pratiques.

D'autre part, la banque propose des solutions de financement innovantes. Par exemple, les prêts bonifiés sur une performance ESG incluent la performance ESG dans la tarification, offrant un meilleur tarif lorsque les entreprises atteignent les objectifs de développement durable ou un supplément lorsqu'elles sont en sous-performance. Un autre exemple est le financement de la chaîne d'approvisionnement, qui reflète la coopération entre les parties prenantes pour une chaîne durable.
EN
How can stakeholders encourage more investors and banks to support sustainable palm oil?


FR
Comment les parties prenantes peuvent-elles encourager davantage d'investisseurs et de banques à soutenir une huile de palme durable?
EN
Engaging in dialogue is critical to understanding challenges and turning these into opportunities.

Before enforcing standards with our clients, we engage in dialogue to ensure these standards will be recognised by all stakeholders and implementing them won't require insurmountable costs or technical effort from smallholder stakeholders.

As a bank, we are a stakeholder within the palm oil supply chain and in this respect we can share our experience and successes in developing best and sustainable practices.

FR
Le dialogue est essentiel afin de comprendre les défis et les transformer en opportunités.

Avant d'imposer des normes à nos clients, nous engageons un dialogue afin de nous assurer qu'elles seront reconnues par toutes les parties prenantes et que leur mise en œuvre n'entrainera pas de coûts ou d'efforts techniques insurmontables pour les petits exploitants.

En tant que banque, nous sommes partie prenante dans la chaîne d'approvisionnement de l'huile de palme et, à cet égard, nous pouvons partager notre expérience et nos réussites dans le développement de meilleures pratiques durables.
EN
How effective do you think conferences like the European Roundtable are in driving forward solutions to the industry's most pressing issues?


FR
Dans quelle mesure pensez-vous que les événements tels que la Table Ronde Européenne permettent de développer des solutions aux problèmes les plus urgents de l'industrie?
EN
As mentioned, we regularly have open dialogues with all industry stakeholders to establish a common and acceptable approach. This includes defining standards that can be applied effectively on the ground in order to have the most chance of gaining acceptance.

The annual RSPO Roundtable and similar conferences provide a good opportunity for stakeholders to exchange views on a sustainable palm oil industry and the progress made to date. Outcomes from these dialogues are a basis for a common effort towards the development or the improvement of existing standards and their enforcement.

At this year's conference, BNP Paribas hopes to hear about new developments and trends in standards, the challenges faced by companies in implementing these standards and the various initiatives undertaken by stakeholders.

FR
Comme mentionné, nous mettons régulièrement en place des dialogues avec tous les partenaires de l'industrie afin d'établir une approche commune et acceptable. Cela implique de définir de normes pouvant être appliquées sur le terrain de manière efficace afin d'avoir le plus de chances d'être acceptées.

La Table Ronde annuelle de la RSPO et les conférences similaires offrent aux parties prenantes l'opportunité d'échanger leurs points de vue sur une industrie durable de l'huile de palme et sur les progrès réalisés à ce jour. Les résultats de ces dialogues constituent la base d'un effort commun pour le développement ou l'amélioration des normes existantes et leur application.

Lors de la conférence de cette année, la BNP Paribas espère découvrir de nouveaux développements et tendances sur les normes, ainsi qu'apprendre quels ont été les défis rencontrés par les entreprises dans leur mise en œuvre et quels ont été les différentes initiatives mises en place par les parties prenantes.